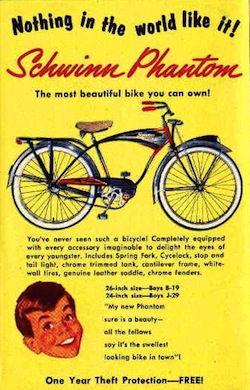 As long as I can remember, I've had a bike (bicycle). I'll never forget my first one, a Schwinn Phantom like the one in the photograph. My dad found it at an auction, a public meeting where items are sold to the person who offers the most money for them. It was in great shape (good condition) and we were able to get it (buy it) for only $15.00. They cost $85.00 in the bicycle shop!
We worked out an agreement: Dad would pay $7.50 and I would earn money to pay the other $7.50 by doing odd jobs (little regular jobs) around the house. At first, I was too short to sit on the saddle (seat). So until I became tall enough, I sat on a small pillow on the crossbar (the top tube of the bicycle frame.)
I rode that bike for many years until, finally, I gave it to my little brother. Later, I switched to a road bike, a bike with narrow (small) tires and designed for riding long-distances on smooth roads. Unfortunately, my bike-riding career came to an abrupt (sudden) end a few months ago when someone got into my garage and stole my nice road bike. Hopefully I'll be able to replace it (get a new one) before too long (soon).
Two articles about bicycles grabbed (caught; got) my attention recently. The first was an article in the Los Angeles Times newspaper about the sharrows (see photo in article) that are being painted on streets used by both cars and bicycles in Santa Monica. Sharrows are a special kind of arrow, a symbol (a shape that has a meaning) painted on the street. Sharrows tell automobile drivers that they have to share the road with bicycle riders. I understand that sharrows are common in some European cities, but they are new in the United States.
Americans don't use bicycles for commuting (riding to work) as much as people in other countries. But the number is growing, and many cities are creating bicycle lanes (a part of the road for only bicycles) or shared roads, like Santa Monica, to make bicycle commuting easier and safer. Irvine, a small city in southern California has almost 300 miles of bicycle lanes!
The second article, in the Economist, tells about the growing number of rent-a-bike services that are popping up (appearing) in cities around the world. In Mexico City, for example, the new Ecobici service provides about 1200 pay-as-you-go bicycles at 85 docking stations around the city.
A pay-as-you-go bicycle is a bicycle that you rent for each use, or trip, with cash or a credit card. A docking station is a machine that holds the bicycles and keeps them locked up until someone rents them. Perhaps you've seen docking stations at airports, where travelers use them to rent luggage carts. To rent a bicycle, you put your cash or credit card into the docking station, which then releases, or unlocks, one of the bicycles so you can use it. When you get to your destination (where you are going), you leave it at the nearest docking station so someone else can use it.
The London Transport Authority and Barclays Bank will introduce a new rent-a-bike program with 6,000 bicycles and 120 docking stations on July 30. The most successful program is the Velib in Paris, which has 20,000 bicycles. In some German cities you can even use your cell phone to rent a bike.
Who knows, if the bicycle commuting trend (the way a situation is changing or developing) continues to grow in Southern California, my next bike may be a commuter bike. In fact, I think I already know which one I want to get!
~ Warren Ediger – ESL tutor/coach and creator of Successful English, where you can learn how to acquire more English.
Photo by Wha'ppen used by permission under Creative Commons license.