Forests are large areas in nature with a lot of trees. When a lot of trees are removed from the forest, we call this deforestation.
Deforestation can occur for many reasons.  It may happen because of logging, the cutting down of trees so the wood can be used for building, for fuel (source of energy), and/or to make paper products. Deforestation may also occur when people want to use the land for other things, such as for homes or for pastures (land with green grass and plants) for livestock (animals raised for food or to work).
Environmentalists, people concerned with protecting nature and the environment, have long warned us about the negative effects of deforestation, including soil erosion, or the loss of soil (the layer of dirt where plants grow), and climate and air quality changes.
However, the follow photo shows another important negative effect of deforestation.  As the old saying goes:  "A picture is worth a thousand words."
~ Lucy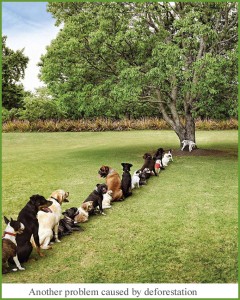 *Thanks to Emiliano for the photo.