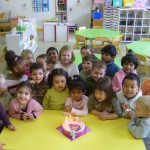 In a recent post, I talked about women's last names and what happens when they marry or divorce.  In this post, I'll talk about how children get their last names.
There are no laws governing (controlling) how parents can and should name their children.  However, the social convention (what is generally done in society) is for the children to be given the last name of the father.  If the wife also changes her name to the husband's after they marry, then every member of the nuclear family (parents and children) has the same last name.  In the U.S., many American men grow up feeling a strong cultural pressure to pass their last names on to their children.
That is the traditional way children get their last name.  However, these days (now), many people choose to name their children in non-traditional ways for a variety of reasons.
First, some people now feel the old naming traditions are sexist (biased against women).  If a woman does not change her name after marriage, the couple may decide to put their last names together in naming their child, with or without a hyphen (dash; "- "). For example:
Mother:  Marlena Ono
Father:  Curt Smith
Child:  Raymond Ono-Smith/Smith-Ono or Smith Ono/Ono Smith
When an unmarried woman has a child, the child is often given the mother's last name.  It's the parents' choice, of course, but when the mother is unmarried she sometimes makes the choice with less (or no) influence from the father.  In the past, there was a strong social stigma (shame; dishonor) involved with having a baby without first getting married, but today, there is far less stigma or no stigma at all.  In this case, Marlena Ono's child would be named Raymond Ono.
In the United States, gay couples are almost always legally unmarried because gay marriage is legal in only a few states.  Gay couples often give their children both of their last names, with or without a hyphen.  A few gay couples may give one parent's name to the first child, and the other parent's name to the second, but this is not common.
When parents get divorced, there are many options and it is up to (decided by) the child's parents.  If the mother changed her name when she married, she may change it back to her maiden name (woman's last name before marriage) after a divorce.  The parents sometimes choose to have the children keep the father's name, even if the children live with the mother.  If the mother remarries, she may or may not change her name again, and her children may or may not take the name of their stepfather (the man who is not their biological father, but who marries their mother).  It is more likely that the children will change their name to the stepfather's if the stepfather adopts the children, making the child legally his son or daughter.
As you can see, naming a child is not a cut-and-dried (completely clear and decided) matter. However, a majority (most) of people have their father's last name, so that's what most people assume is the case (is the situation; to be this).
~ Lucy