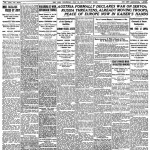 Here's a headline (title) from a political blog on the New York Times website this week:
Battle Over Bailouts Shifts Oversight Debate
The blog post is about one of the most controversial issues currently in U.S. politics: how the federal (national) government should regulate (have rules for) our financial institutions, such as banks, stock market investment firms, and other similar companies.  As many of you may know, during the economic crisis in the United States in 2008-2009, the U.S. government spent billions of dollars to help save banks that had lost a lot of money because of, among (in addition to) other things, the declining price of houses in the U.S.  Now, almost two years later, the federal government is investigating how to prevent another financial disaster involving these banks from happening again.
The headline begins with the phrase battle over, which means a fight or a violent argument over (about) something.  Normally we use the word battle to describe events in a war, but the word can also be used more generally to indicate a large or major disagreement.  This battle or fight is over bailouts.  To bail out a company means, in this case, to give it money when its business is in serious trouble, when it needs money to continue.  The word can also be a noun to describe the money given to the failing company.  The U.S. government has given bailouts to several banks over the past few years.  Many people were angry that public money was used to help these private banks, and the government's action is now very unpopular (disliked by many people).
To shift means to focus attention from one thing to another, or to move from one position to another.  Here the fight over whether banks should continue to get bailouts has changed or shifted the focus of people's attention from the more general discussion of oversight of financial institutions.  Oversight is when a person or group monitors (looks at; follows) and controls what a group of other people or groups are doing.  The person who is overseeing (the verb for oversight) is not actually in charge of or running the other group; he or she is just making sure it does things according to the rules and regulations.  A debate is a discussion by two or more people who have different views about some important topic, usually done in public in front of a group of people watching.  More generally, it can also mean a disagreement about some political issue.
So what does it all mean?  The government was trying to put new regulations in place (in effect) for banks that would give the government oversight over how these banks operated.  But now the focus of the discussion has shifted to talking about whether the banks should receive bailouts, not about how they should be regulated and controlled.  The original focus of the debate was about oversight, and now it is about bailouts.
~Jeff