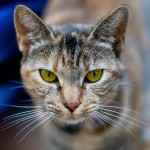 Here is a story that appeared in the Los Angeles Times recently that caught my eye (got my attention).  The headline is:
"Cat stows away (hides and rides without paying) on cross-country (across the country) flight"
This is what happened: The manager of a medical office in Chicago, Illinois, opened a package of supplies that the office had received by a mail delivery service and found a black and white cat inside!  The package had come from Dallas, Texas.
How did Cody, the cat, get into the box?
…
From the Los Angeles Times:
The cat had jumped unnoticed into the roughly (approximately) 2-by-3-foot box as it was being packed, said Marie Webster of Dallas, whose daughter is Cody's owner.
"She taped it up, put the label (sticker with name and address) on it and off he went" via (by) UPS (the name of the mail delivery service), Webster said.
When Webster received the call that Cody was safe, she assumed he'd been found wandering (walking around without a destination) in Dallas.
"I didn't know he was in a suburb (neighborhood with mostly homes) of Chicago!" she exclaimed (said loudly in surprise).
Cody spent the night at a veterinarian's (animal doctor's) office and flew back home, this time in a cat carrier (small pet container).
….
Why did the cat jump into the box?  Where was Cody going?  I think we all know.
No doubt he wanted to ring in the new year (celebrate the start of the new year) with Jeff and stopped in Chicago on his way to Minnesota.  Too bad Cody got waylaid (stopped or detained), but no doubt he'll make it to Minnesota (or L.A.) sooner or later.  Get ready, Jeff.  He's coming for you.
In the meantime, I wish you all a Happy New Year and a fantastic 2010!
~ Lucy
* 2010 is pronounced "two thousand (and) ten" or "twenty ten."