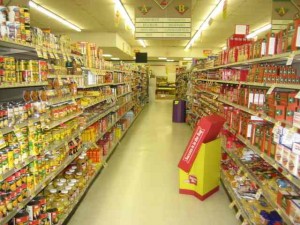 I recently found a book called What Americans Really Want…Really: The Truth About Our Hopes, Dreams and Fears. It's a review of polls (surveys, questions asked to some group) and focus groups (small groups of people who come together to give their opinions about something for a business or a survey company) on Americans and the things they – well, we-like and dislike. One part of the book talks about Americans shopping for food.  Here are some facts about Americans and food that I thought were interesting:
Americans spend on average (typically) 25 minutes when they go to a supermarket (food store) to buy food.
Although much has been said about the equality of men and women in the United States in the past 30 years, the large majority (70%) of food shoppers are still women. Among married couples, women almost always do the majority of shopping.  (That's not true in my marriage, let me be quick to add!)
About 75% of Americans spend more than $100 a week on groceries (food).
When Americans are shopping for food, they try to get the highest quality at the lowest price (but then again, who doesn't do this in any country?).   Moms tend to (typically, usually) pay more to get higher quality, whereas (but) seniors (older people) do not.
Americans say that they shop for groceries several times a week. About a third of Americans say they go to the grocery store five times a week or more, spending about $20 per trip. This seems like an awful lot (too much) to me.  I don't think I go to the grocery store more than twice a week.
More and more Americans are buying organic (grown mostly without chemicals or artificial processing) food. This is especially true in the more politically liberal enclaves (small areas where one particular type of group is the majority) such as Berkeley, California; Boulder, Colorado; and Burlington, Vermont.  Organic is becoming more popular, having grown from a $1 billion a year business in 1992 to a more than $23 billion business in 2008. However, it is still a relatively small percentage of American food sales. The most popular place to buy organic food in large American cities is the store called Whole Foods. It is sometimes jokingly called "Whole Paycheck," since it is so expensive it will require that you spend all of the money you make each week — that is, all of your paycheck!  (We have several of these stores here in Los Angeles, but I don't go to them very often – they really are more expensive.)
~Jeff