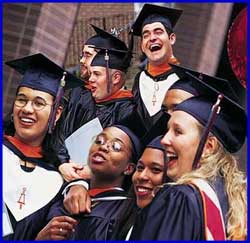 I recently read something surprising: In the past few years, many universities in other countries have hired Americans for top-level jobs. For example, in 2009, a provost (senior administrator) at one of the top universities in the U.S.–Yale–will become the head (director; person in charge) of Oxford University, one of the most prestigious universities in England. Another American academic (university teacher or scholar) at Harvard, perhaps the most well-known American university, will become the new head of the University of St. Andrews, the oldest university in Scotland.
What accounts for (explains) these high-level appointments? The answer is money.
Universities have become big businesses and one of the main duties of a senior university official is fundraising, getting donations and other forms of money for the institution. Apparently, Americans or people exposed to American ways of doing things have good fundraising skills. These skills are a product of (result of) experience and necessity (need).
U.S. universities rely heavily (very much) on philanthropy, which is when someone gives a generous donation of money to build or help an organization or a cause. For example, at Harvard last year, 40% of the total budget came from philanthropy. This is in contrast to (very different from) universities abroad (in other countries): At Cambridge University in England, only 10% came from philanthropy, and at the University of Melbourne in Australia, only 6% did.
In recent months, donations to universities have dropped significantly, making a fundraiser's job even harder. However, in general, when it comes to separating wealthy (rich) people from their money, I guess an American is the one for the job!
~ Lucy