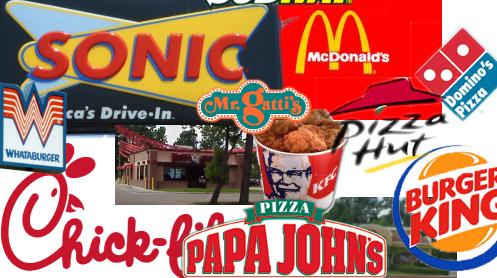 The United States is known for its many low-cost (inexpensive, cheap) restaurants called fast food restaurants.  The idea is that you can get your food within a few minutes after you order it.  The most common food is hamburgers at restaurants such as McDonald's and Burger King, although tacos are now becoming popular at restaurants such as Taco Bell and others.  Unfortunately, much of this food is unhealthy and is probably one reason why so many Americans are obese (seriously overweight).
Does the average American eat at restaurants more often than people in any other country?   The answer is no.  In the U.S., according to one study that was discussed in the New York Times Magazine recently, the average person living in the U.S. eats at a restaurant about 120 times a year.  That means that one out of every three days the average American eats a meal outside of their home.  This doesn't necessarily mean they are eating fast food, although that is probably the most popular type of restaurant here.  But the number one country for eating meals at restaurants is Japan, where the typical person eats almost 200 meals every year in a restaurant.  The U.S. is second, followed by Spain, where the average person eats just over a hundred meals per year in a restaurant; Italy, Germany and Great Britain, where the number is around 80 meals per year; followed by France, the Netherlands, and Belgium.  (I'm not sure how many countries the study looked at, however.)
With the declining economy, my guess is that some of these numbers will go down in the United States as people look for less expensive ways of eating.  I would say that I am probably about the same as the average American, perhaps eating out (eating at a restaurant) a little bit more than the average.  I have a good reason, however: I am a terrible cook.
~Jeff