In today's episode, we hear two dog owners talk about their "babies." M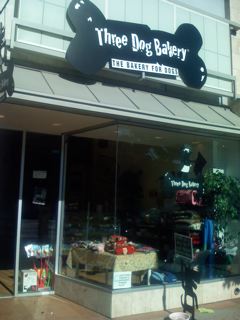 any Americans have pets and they like to pamper (to give every comfort and attention to) those pets.
We talk about different ways that American pet owners pamper their pets in the Culture Note of today's Learning Guide, including taking pets to a salon, buying clothes for them, taking them to classes, and giving them gourmet food.
These types of pampering are not too unusual, but I came across (encountered) one store that catered to (to be specifically for) pets that was really surprising to me. I was having lunch in the Sherman Oaks area of Los Angeles not too long ago and I saw this store.
Many people say that you can find anything in L.A. if you look hard enough. The name of this store is "Three Dog Bakery" and under the name are the words, "The Bakery for Dogs." Since I don't have a dog, I didn't go in to buy a snack (at least not for a pet), but there were customers in the store doing just that.
Are you a pet owner and do you pamper your pets? What do you think would be going overboard (doing too much)?
~ Lucy