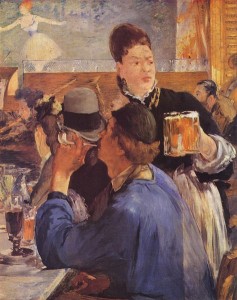 According to international surveys (questionnaires), including a much cited (referred to by other people) 2004 poll (research where many people are asked the same question(s)) by the Gallup organization, the United States has one of the highest percentages of church attendance (percentage of people going to church) in the world. At about 43%, the figure is much higher than many other so-called (what is called; what is often referred to as) "developed" (industrialized) countries.
While church attendance for some Christian denominations (branches or separate groups of Christians) have held steady (remained the same) over time, some have had steady (continuing) and steep (very sharp or large) declines. To combat (fight; slow or stop) this decline, some churches have tried to lure (attract) churchgoers (people who attend or go to church) in creative ways.
Do you like beer? Would you like to worship (do things to feel closer to and to honor God) at a bar instead of a church? If you do, you're in luck (fortunate).
Some churches are holding services (performing the rituals and actions normally done in church) in bars and other more informal places, inviting people to enjoy beer as they listen to sermons (talks, usually given by a priest or minister, about religious subjects), sing hymns (religious songs), and even take communion (participate in a religious ritual involving bread and wine).
These services have names such as "Church-in-a Pub" (bar) and "Beer & Hymns," and tend to attract young people who don't usually go to church on Sundays. Some church leaders are skeptical (not convinced; have doubts) about these types of services, but others are optimistic (feel encouraged) about the number and types of people choosing to attend.
Is church attendance common where you live? If you don't go to church but consider yourself religious, would a more relaxed atmosphere like this tempt you (make you want) to attend?
– Lucy
Photo Credit: Edouard Manet from Wikipedia