HOME > BLOG > The Inverted Jenny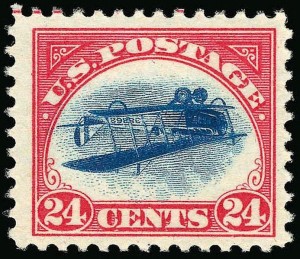 Stamp collecting was a much more popular pastime (hobby) 50 to 100 years ago, but philately — the technical name for stamp collecting — is still alive and well (existing and active) in the U.S. today. One of the most famous U.S. stamps that any philatelists — the technical name for stamp collectors — would like to own is known as the Inverted Jenny.  ("Inverted" means upside down, where the top is at the bottom and the bottom is at the top.)
In May of 1918, the U.S. government decided to try a new type of mail service that would use an airplane to transport mail between Washington, D.C., Philadelphia, and New York City — all cities on the East Coast of the United States. For this new service, people would need to pay 24 cents, a significantly higher price than other letter-delivery services. So the government decided to print a new stamp just for this airmail service.  The stamp pictured (showed the image of) the Curtiss JN-4 airplane, nicknamed (given the informal name) "Jenny," which would transport the mail between those cities.

The U.S. Postal Service had only a short amount of time to produce this new stamp. The stamp also had two colors on it, which meant that it had to be fed through (put through a machine) the printing machine two times, first printing one color and then the second. Sometimes, when it was put through the second time, the sheet of stamps was upside down. All of the "mistakes" were caught (identified) during production, except for one. One sheet of 100 stamps with this mistake escaped notice (was not seen or identified). That sheet of stamps contained the only Inverted Jennys available today.
A stamp collector went to the post office to buy the new stamp in 1918 and quickly realized that he had something special. He sold the sheet of stamps quickly and with the proceeds (money received from the sale) bought a house.
Since that time, this sheet of stamps has been taken apart, and many of the Inverted Jenny stamps have been been sold separately or in small numbers. Each stamp is worth in the area of (approximately) three quarters of a million dollars ($750,000) to $1 million.
Now, you can own an Inverted Jenny. The U.S. Postal Service is issuing (producing) Inverted Jenny stamps for sale. But, there is a twist (something unexpected). One hundred of the sheets produced will be right-side up, meaning they will appear as they should have originally with the top on top and the bottom on the bottom. All sheets of stamps will be packaged so that you won't be able to see them before buying. The government hopes to get people excited about the new stamps, to create new interest in stamp collecting, and to add to their coffers (make more money). These new right-side up stamps will, of course, become collectable (wanted by people who collect this type of thing) almost immediately.
Have you ever collected stamps? Is stamp collecting a popular pastime where you live, now or in the past? Are there any special stamps you remember owning or seeing?
– Lucy
Photo Credit:  USA Inverted Jenny from Wikipedia