HOME > BLOG > 612,000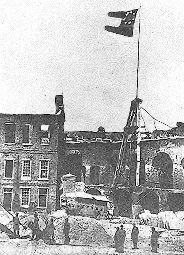 Today is the sesquicentennial (150th anniversary) of the first Battle of Fort Sumter, South Carolina, which marked (indicated) the beginning of the American Civil War.  From 1861 to 1865, approximately 612,000 men, women, and children died as a result of the bloody war between the North and the South (the northern U.S. states and the southern ones).
The Civil War helped end slavery (the use of human beings as property) in the U.S. and preserved (saved; kept) the country intact (as one unit; together).  The cost of the war was high, and its consequences (results) run deep (affect in a serious, profound way) in the history of the United States, even to the present day (today).
It is a sad fact that civil war often produces the worst kind of violence and bloodshed (killing), as many of you in other countries can attest (can give truthful evidence of) in your own histories.  Today, we honor (remember with respect) those who died so that, as President Abraham Lincoln famously said,  "government of the people, by the people, and for the people shall not perish (disappear) from the earth."
~Jeff
Photo Credit: 1861 photograph of Fort Sumter, Wikipedia Public Domain