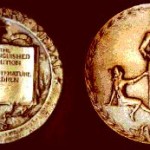 Reading in English, together with (combined with) listening in English, will help you improve your English a lot. It's important to read things you can understand fairly easily, without taking out the dictionary at all or very often. The important thing is to understand the meaning of what you are reading, even if you don't know every single word. However, for people who are not yet reading at the native-speaker adult level, there is one major obstacle (barrier; difficulty):  How do you find books that you can understand AND that are interesting to an adult?  This issue is a major one for language learners, no matter what language they are trying to learn.
The logical (reasonable; clear) solution, at least as far as finding books at the right level is concerned, is to select books intended for (written for) children or teenagers.  The downside (problem) is that these books may have themes or subjects that are too juvenile (childish) for an adult.  One solution may be to select Newbery Medal award-winning books to read.
The Newbery Medal is an award given each year to the best American literature (quality stories/books) for children.  Yes, these are still books written for children and most of the protagonists (main characters) are children, but after reading many of these Newbery Medal winners in translation in the languages I'm trying to learn, I can say that many of the books have sophisticated (high-level; complex) themes that may still appeal to (be attractive to)  adults.
You can find a list of these books here.  Perhaps even more useful is this research article, in which the authors have calculated (computed; worked out) the grade-level of each of these books, using several commonly-used methods and scales (measurements) (see the last three pages of the article for a list).  Obviously, the lower the grade-level, the easier the language, although these lists do not take into account (consider) the reader's background knowledge or knowledge they already have about the book's topic, which helps a lot in understanding what we read.
I've read only a few on this list, in English or in other languages, and some of them I read too long ago to remember well.  However, as a starting point (place to begin), I would recommend these:

1999: Holes by Louis Sachar (Publisher:  Frances Foster)
This is an adventure and mystery story involving a group of boys being made to dig holes as punishment. They eventually find out the real reason for the holes they dig.
1994: The Giver by Lois Lowry (Publisher:  Houghton)
This is a science fiction story set in the future about a world that has eliminated (gotten rid of; no longer have) pain and suffering.  However, one person is selected to keep the memories for this society, and it is not an easy job, especially for a young boy.
1992: Shiloh by Phyllis Reynolds Naylor (Publisher:  Atheneum)
This is a story about a boy who wants a dog very badly, and finds one that has been poorly treated by its owner.  He wants to do the right thing.  Should he give it back or keep it?
1984: Dear Mr. Henshaw by Beverly Cleary (Publisher:  Morrow)
This is a book in the form of letters written by a boy to an author of children's books. The boy moves to a new town and his thoughts and difficulties about adjusting to his new family and school situation is told in these letters.
1961: Island of the Blue Dolphins by Scott O'Dell (Publisher:  Houghton)
A young woman and her brother are the only survivors (remaining people living) left on an island.  The young woman must find a way to live.  This book is based on a true story.
I understand that books in English may be difficult to find in other countries.  However, because these are award-winning books in English, perhaps they will be a little easier to find, especially on major book-selling websites like Amazon.  (I understand, however, that they may be expensive to buy.)  If you have read other books you liked that may be appropriate for people not yet reading at the adult level, please tell us about them by posting a comment.
Update:  Be sure to read Warren's blog post about finding reading materials at the intermediate level. He provides a way for you to look at the book's pages before you decide whether you want to read it, making sure it is right for you.  Read it here:  Warren's blog post.  Thanks, Warren!
~ Lucy