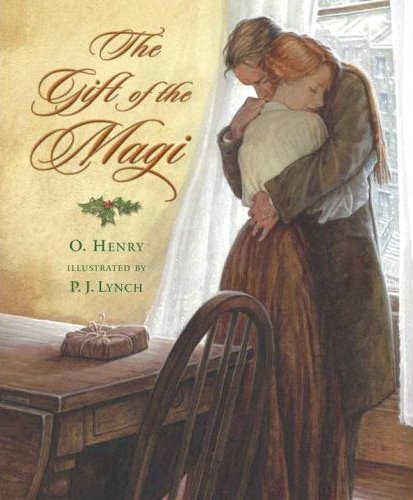 This is the time of year when many people are thinking of giving and receiving gifts. A popular short story about gift-giving is "The Gift of the Magi" published in 1906, written by American writer O. Henry (whose real name was William Sydney Porter). It's a classic story that most Americans know from childhood, and there are many versions of this story today. Here's a summary of the story:
….
There once was a young married couple named Jim and Della Dellingham. They were very much in love and they were very poor. For Christmas, Della wanted to buy her husband a chain (a long, flexible piece made of many small metal parts connected at one end, one to the next, like a necklace) for this pocket watch (an old-fashioned watch worn in a pocket, not on the arm), a watch that his father had given him and that he cherished (loved very much). The trouble was, Della didn't have enough money. The only thing she had that was valuable was her beautiful long hair. She decided to cut it off and sell it to a wig-maker (maker of fake hair) to get the money for the watch chain.
Jim Dellingham loved his young wife very much and wanted to give her something special for Christmas. He, too, had little money and certainly not enough money to buy a set of beautiful combs for Della's long hair, hair that everyone admired. In the end, Jim decided to sell his much-loved pocket watch to buy Della the combs.
As you can imagine, when Christmas day arrived and the gifts were exchanged, Jim and Della were surprised and also disappointed that the gift that each had bought the other was now useless. However, they each realized the self-sacrifice (giving of oneself so another person could benefit) of the other and loved each other all the more.
…
Why is this story called "The Gift of the Magi"? Here is O. Henry's explanation from the last paragraph of his story.
"The magi, as you know, were wise men—wonderfully wise men—who brought gifts to the Babe (Jesus Christ in the Christian religion) in the manger (the open box that was the baby's bed). They invented the art of giving Christmas presents. Being wise, their gifts were no doubt wise ones… And here I have lamely (poorly) related to you the uneventful chronicle (story from beginning to end) of two foolish children in a flat (apartment) who most unwisely sacrificed for each other the greatest treasures of their house. But in a last word to the wise of these days let it be said that of all who give gifts these two were the wisest (showing the best judgment). Of all who give and receive gifts, such as they (like they do) are wisest. Everywhere they are wisest. They are the magi."
You can read O. Henry's entire story here. I hope that your gift-giving experiences this holiday season are full of joy, for you and the ones you love.
~ Lucy