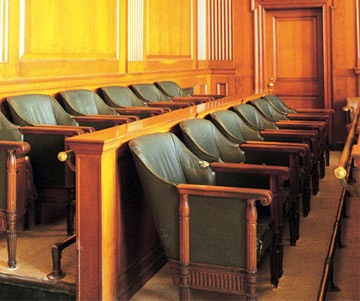 This has been an unpredictable (uncertain) week for me so far, mostly because I am on jury duty. A jury is a group of people (usually 12 in the United States) who decide whether someone is guilty or innocent in a court case. If someone commits a crime, they may have to go to trial, meaning to go in front of a judge and defend themselves. In most cases in the U.S., the decision belongs not to the judge, but to the jury. To be a juror (someone who sits on or who is a member of a jury), you need to be a U.S. citizen, over 18 years old, and able to speak and understand English. There is no test to determine your English level, however, at least not here in California. That is decided by the judge, which is a strange way to make such an important decision, but that's the current system.
Potential jurors are chosen at random from the citizens of an area, although you are normally only called once every 12 months, usually less (some people are never called for jury duty). I have been called for jury duty once before, about two years ago. Here in Los Angeles, you are sent a letter – called a jury summons – with a special number to call. For one week, you must call the number each evening. If the court needs jurors for the next day, then you are required to go to the courthouse (the place where trials take place) and report for duty. You are put into a smaller group, and when the judge needs jurors, he or she will ask that group to come into his or her courtroom (the room in the courthouse where the trial is).
Today is Wednesday, and so far I have not been asked to report for duty. I have two more days before my on call service is over. (To be on call means that you must be available to do something when you are called or notified.) I won't know until tonight whether I have to go tomorrow. If I do, I'll let you know what happens!
~Jeff