This is not just a big week for American football or the U.S. presidential elections. There are at least three other major world events that happen this week. The first is Mardi Gras ("Fat Tuesday"), which marks (celebrates, commemorates) the last day before the 40 days of Lent. Lent is a period of 40 days in the Catholic Church where Catholics are supposed to prepare for the greatest celebration of the Christian religion: Easter. Part of the tradition of Lent is to fast (not to eat very much) and abstain from (avoid, not eat) certain kinds of food. This 40-day period always begins on a Wednesday, so the day before Lent begins is a time for celebrating and partying, because you won't be able to celebrate for another 40 days again! In many places, this is called Carnival, and is a party/celebration that lasts several days before the beginning of Lent. Brazil, for example, has a famous Carnival celebration, with large parades and beautiful women dancing in the streets (I guess there may be some handsome men, too, but I never noticed!). Here in the U.S., the city of New Orleans, with its French Catholic heritage (history), also celebrates Mardi Gras, but it is not celebrated in very many other U.S. cities.
I said that Mardi Gras is on a Tuesday before the beginning of Lent. Lent begins on Ash Wednesday (today). Ashes are the black material that is left after you burn something, such as paper or plants. In the Catholic tradition, followed still by many in the U.S. and other countries, you go to church today to have ashes put on your forehead (the part of your head between your eyes and your hair, on top of your face). These ashes are a sign of your participation in this 40-day period of fasting and abstinence (the noun from "to abstain").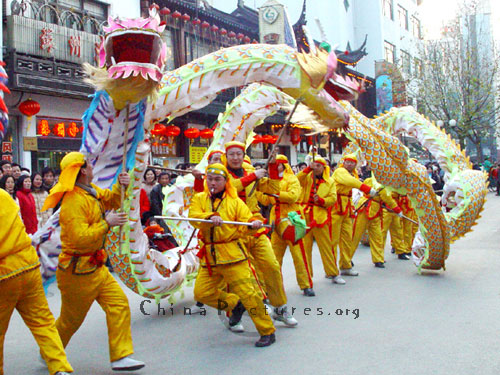 Finally this week, we have the Lunar New Year, celebrated tomorrow (Thursday) widely in many countries in Asia and cities in the U.S. and elsewhere that have large Asian American and Asian immigrant populations. Lunar refers to the moon, since the actual date of this New Year changes every year to follow the cycles of the moon. (Tonight is a full moon, meaning you can see the entire moon. The opposite would be a new moon.) Lunar New Year (sometimes called in the U.S. Chinese New Year) is also a period of celebration, with parades in the streets. Los Angeles has a Lunar New Year celebration every year, as does San Francisco, since both cities have a large number of Asian Americans. This is the year 4706 in the Lunar calendar, traditionally observed. This lunar calendar has an animal for each year in a 12 year cycle. This year is the Year of the Rat (an small animal that looks like a large mouse).
So…much to celebrate this week!
~Jeff