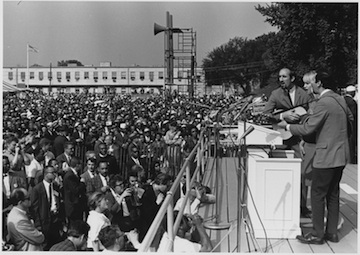 Fifty years ago, about 250,000 people – mostly black, but also white, Asian American, Latino/Hispanic, and Native American – gathered in front of the Lincoln Memorial in Washington, D.C. to demonstrate (protest or support) for civil rights. The March on Washington for Jobs and Freedom was one of the largest political rallies (large pubic meeting) in American history and possibly the most important. Many people believe it was the reason Congress passed (officially accepted) important laws to protect civil rights (right to vote; be treated fairly) and voting rights.
Many things made that day memorable (easy to remember), beginning with Martin Luther King's I Have A Dream speech. The rally was peaceful, which surprised many people, including President Kennedy. Americans from many races (main groups of people, like African Americans) and walks of life (position in society) came. John Lewis, one of the speakers, said that he scanned (looked quickly but carefully) the crowd before he spoke and marveled (was filled with amazement) at the diversity (many different types of people).
Music performed by a number of well-known musicians also played an important part in the rally. The music was mostly folk music – music of the people, music many of them knew and could sing. About half of the songs were spirituals, a kind of folk music created by African American slaves. Spirituals express (tell about) their religious beliefs, their experiences, and their desire for freedom.
Here are three songs you would have heard if you had been there. Listen to them, and let them take you back to that historic day for a few minutes. A note: they come from old black-and-white films – remember, this was 1963 – so the quality isn't always the best.
Mahalia Jackson, known as The Queen of Gospel (kind of Christian music) – How I Got Over
This is a song about deliverance (being saved from danger). It's difficult to understand the words, but this film clip gives you a wonderful sense (feeling) of what it was like to be at the rally. It begins with these words:
How I got over (was delivered),
How I got over,
You know my soul looks back and wonders (has trouble believing)
How I got over.
Joan Baez – We Shall Overcome
We Shall Overcome is a protest (against something that is wrong) song that became the unofficial anthem (main song) of the Civil Rights Movement. There's no video for this song, but listen to the voices of the people in the audience.
We shall overcome (win the battle for civil rights),
We shall overcome,
We shall overcome, some day.
Oh, deep in my heart,
I do believe we shall overcome, some day.
We'll walk hand in hand…
We shall live in peace…
We shall all be free…
We are not afraid…
Oh, deep in my heart,
I do believe we shall overcome, some day.
 Peter, Paul, and Mary – If I Had A Hammer
The popular song has a simple message: We have the tools we need for change – the hammer of justice (fair treatment for everyone), the bell of freedom, and the song of love – and we are going to succeed.
If I had a hammer / bell / song,
I'd hammer in the morning,
I'd hammer in the evening,
All over this land,
I'd hammer out danger,
I'd hammer out a warning,
I'd hammer out love between,
My brothers and my sisters, all over this land.
Well, I've got a hammer and I've got a bell
and I've got a song to sing all over this land.
It's the hammer of justice,
It's the bell of freedom,
It's a song about love between my
brothers and my sisters, all over this land.
I don't know about you, but I am moved (made to feel strong emotions) by these songs. They brought back a lot of memories for me. I hope they created some new ones for you.
Credit: These songs come from an article –The Music of the March on Washington – published by The New Yorker.
~ Warren Ediger – ESL tutor/coach and creator of the Successful English web site.
Photo of Peter, Paul, and Mary courtesy of Wikipedia Commons.