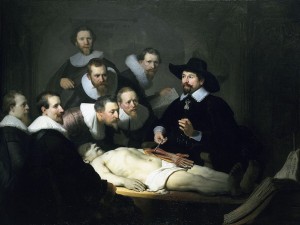 In recent months, I've come across (seen without looking for it) several stories about how people are using social media (websites that allow people to contact each other and their friends) to help each other with medical issues.
The first trend is not new, but the use of social media has made it easier: "crowdsourcing." Crowdsourcing is when you pose (present) a problem to a specific group of people and ask them to come up with possible answers or solutions. When using social media, that specific group can be made up of (consist of; contain) hundreds or thousands of people who put their minds to (think about) the information or question that is posed and then suggest answers and solutions in response. Of course the quality of responses is only as good as the "source" that is being asked, but the beauty of (advantage of) using social media is that you can cast a wide net (reach many people across a great distance) and benefit from the consensus (agreement) of the majority (most people).
Crowdsourcing is now being used by some people to find diagnoses (identification of the causes) of medical conditions that have stumped (puzzled) patients' own doctors. In one case mentioned in a recent Time magazine article, a woman's husband posted her medical history, test results, and other health information on social media sites after doctors at Harvard and Stanford — two well-respected medical schools and hospitals — were unable to reach a diagnosis. They received more an 1,000 posts a day from countries all over the world and resulted in the patient being tested again for a rare (not common) condition that might be the cause of her symptoms (indications of illness).
Another trend in medicine that uses social media is "crowdfunding." As many of you already know, healthcare in the U.S. is not free. Some Americans with full-time jobs have health insurance that pays for some, though not all, health costs. Unfortunately, many Americans don't have any health insurance at all and must pay for all healthcare out of pocket (out of their own money).
Several new websites now allow people to ask friends and strangers (people we don't know personally) to help pay for expensive medical procedures and treatments, and even surgical operations (major medical procedure where doctors cut into the body). Normally, family members and close friends are the first to be contacted and are the first donors (givers), but because it is easy on large social media sites such as Facebook to contact strangers in large numbers, strangers who are moved by (have strong feelings about) a patient's story may also donate. Because it's easy for just anyone to ask for money on these websites, they have put in some safeguards (protections) against fraud (efforts to cheat people), though false appeals (efforts to ask people for help) are still possible. Despite this, crowdfunding is helping people who would otherwise not get the medical care they need.
Have you come across or used crowdsourcing or crowdfunding where you live? Would you considering using these methods to benefit your own or family members' health?
~ Lucy
Picture Credit: The Anatomy Lesson of Nicolaes Tulp by Rembrandt from Wikipedia