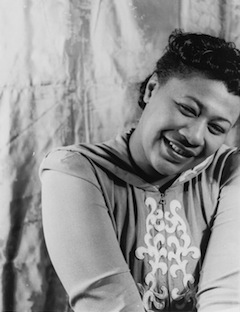 It's hard to imagine that a song could have a better friend than Ella Fitzgerald! Ella – who died in 1996 – would have celebrated her 94th birthday on Monday, April 25th.
Ella, an American jazz singer, is known as the "First Lady (the leading woman in an art or profession) of Song." She had a remarkable (impressive) career that "spanned (extended across a period of time) 59 years, garnered (collected) 15 Grammys (an important award for musicians) and forever changed the face of (sound or appearance of) jazz," according to the Brain Pickings website.
Many believe that Ella had the best voice in the history of jazz or, perhaps, any kind of music. And they believe that her ability to interpret (perform in a way to show feeling and meaning) many different kinds of songs is without peer. In other words, no other singer has had the same ability she had. She's certainly one of the foremost (best or most important) interpreters of the Great American Songbook – the best and most important American songs from the 20th century, especially from the 1920s to 1960. These are songs that will probably remain (continue to be) popular and be performed by jazz musicians for many years. Sometimes these songs are called "jazz standards." She received the National Medal of Art from President Ronald Reagan and the Presidential Medal of Freedom from the first President Bush.
Ella was born in 1917 and began her singing career in 1934, when she was 17 years old. She sang with Duke Ellington, Count Basie and most of the other important bands (groups of instrumental musicians), but she may be best known for her frequent performances with Louis Armstrong, one of the greatest male jazz singers and trumpet players and my childhood hero (someone you admire). There always seemed to be a little special magic in the air when they performed together.
Ella is also considered (thought) to be one of the greatest scat singers in jazz history. Scat singing is when the singer uses the sound of his or her voice like an instrument, without words. Scat singing is almost always improvised. Improvised music isn't written; it's created, or made up, while performing.
Ready to party with Ella? I've found several great examples of her music, some of them rare (not often seen or heard):
I hope you enjoy Ella as much as I do. I celebrated her birthday on Monday by listening to her music all day while I worked; I loved every minute of it!
~ Warren Ediger – English coach/tutor and creator of Successful English where you can learn how to use audio books to improve your speaking.
Photo of young Ella from the Wikipedia Commons is in the public domain.