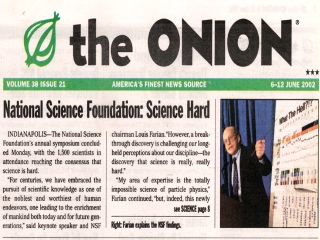 The Onion is a well known newspaper published in the U.S., but be careful about getting your news from it. None of the stories are true.
The Onion is a parody (imitation; false) newspaper that publishes satirical (using humor to expose or make fun of other people) articles about local, nation, and international events. This was one of their recent "news stories," with a few excerpts (short parts or sections):
National Science Foundation: Science Hard
INDIANAPOLIS—The National Science Foundation's annual symposium (academic or scientific meeting) concluded (ended) Monday, with the 1,500 scientists in attendance reaching the consensus (agreement) that science is hard…
The science-is-hard theorem (scientific explanation) first posited (offered as an explanation) by a team of MIT (Massachusett Institute of Technology; a university in Boston) professors in 1990, was slow to gain acceptance (to be accepted; to be considered true) within the science community…
"We now believe that the theorem is 99.999% likely to be true, after applying these incredibly complex (complicated; with many parts) statistical (analyzing numbers) techniques that gave me a splitting (very painful) headache," one of the scientists said.
If you like satire, this is the newspaper for you.
~ Lucy