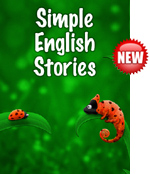 Over the past several years, many of our listeners have asked us about English courses for children, especially at a low English level. We have finally completed three courses called "Simple English Stories" just for children — and for adults who want to learn English, too!"
Stories for Children
"Simple English Stories" are children's stories written at a low level. These fun and exciting stories include useful vocabulary that is repeated many times in an interesting and meaningful way within the story. Hearing English used many times while hearing a fun story will help children learn English quickly and in a fun and exciting way!
Something For Adults and Older Children, Too!
For older children and adults, each set of "Simple English Stories" contains a "Bonus Story" that takes a fresh and different look at the traditional classic story (Story A). This is a humorous and fun way to introduce useful vocabulary. Children and adults can listen together to Simple English Stories — and learn English together!
Find out more about "Simple English Stories"!
We hope that these stories will be useful to you and to your children!
~ Jeff and Lucy