Tuesday - August 26, 2008
Many universities begin the new academic (school) year around this time of year, in late August and early September, and I recently came across an article about laptops (portable or easy to move computers) in the classroom.
When I was a professor at the university, students would sometimes–maybe, often–get distracted (not give full attention) by other things and not pay attention to the class discussions. I'm sure my boring lectures (educational talks) were the cause.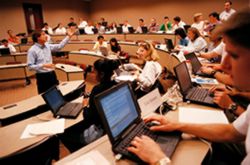 These days, there's something else distracting students: their laptops. Most American universities now have WiFi or wireless Internet access across the entire campus (space and buildings of the university). This means that students with laptop computers can bring them to class and surf the web (go to and look at different Internet pages) during class. As you can imagine, many professors don't like this very much.
Professors at some universities are retaliating (fighting back). Some are banning (not allowing) laptops in their classrooms. Other universities allow professors to flip a switch (cut the electrical connection) to turn off WiFi in their classrooms. Professors say that it makes a huge difference. Students pay attention more and there is a better connection and better communication between professors and students. On the other hand, some students say that if professors were more interesting, they wouldn't get bored and surf the web during class in the first place (to begin with).
Are laptops allowed in the university classrooms in your country? Are they allowed only for taking notes or for accessing the Internet as well?
~ Lucy