HOME > BLOG > The Most Bible-Minded Cities in the U.S.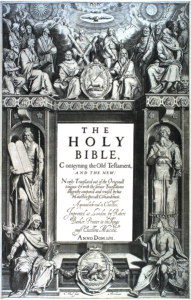 If you're wondering which cities in the United States could be considered the most religious, you may be interested in a recent survey (piece of research where many people are asked the same questions) released by the American Bible Society (ABS). The ABS is a non-profit (not intended to make money) organization that distributes (gives to people) Bibles and Bible-related materials. (The term "Bible" in American English is usually used to refer to the sacred or holy texts of Christians, the Old and New Testaments, although it could also be used to refer just to texts sacred to Jews as well.)
After asking questions of 46,000 randomly-selected (select by chance) people, the ABS has determined the most "Bible-minded" cities in the U.S. (Minded here means having your mind on or thinking about something.) The ABS asked people whether they had read the Bible within the past seven days and if they agreed "strongly with the accuracy of the Bible." Based on the responses, the ABS ranked 100 U.S. cities.  The top 10 cities are all in an area known in the U.S. as the "Bible Belt."
The top 10 most Bible-minded cities are:
Chattanooga, Tennessee
Birmingham, Alabama
Roanoke/Lynchburg, Virginia
Springfield, Missouri
Shreveport, Louisiana
Charlotte, North Carolina
Greenville/Spartanburg, S.C./Asheville, North Carolina
Little Rock, Arkansas
Jackson, Mississippi
Knoxville, Tennessee
The Bible Belt is an informal term for the south central and southeastern parts of the U.S. that have traditionally been considered more religious than other parts of the country. (Belt here means an area where some characteristic or trait is commonly found.) The term is said to have been (believed to be, but not completely certain) coined (created) by an American journalist and commentator (person who gives his/her opinion professionally), H.L. Menken, who wrote for the newspaper Chicago Daily Tribune (now simply called the Chicago Tribune).
Perhaps ironically (being opposite of what one would expect), the American Bible Society is located in New York City, which is number 89 on the list, just ahead of (before) Las Vegas, often called Sin City, with "sin" referring to bad things people do that are against what God would want. Los Angeles doesn't fare (do) much better at number 73, but we're not as bad as San Francisco, which is ranked 97th.
If you'd like to see for yourself which cities are considered most Bible-minded according this survey, take a look at the full list here on the American Bible Society website.
– Jeff
Image Credit: King James Version Bible 1611 from Wikipedia