HOME > BLOG > Own a Home for Just $1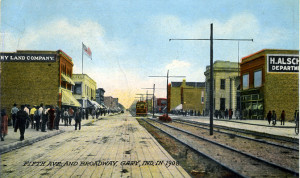 With the economic downturn (decline) over the past few years, we've heard stories of people losing their jobs, losing their homes, and losing their way of life (how they live and their pattern of life). Imagine that happening to an entire city.
That's what happened to the city of Detroit, Michigan. It is the largest city ever to declare bankruptcy (officially state that they are without money and cannot pay what they owe). In the past, Detroit was known as the "Motor City" because of its automobile plants (factories) that produced many of the cars sold by American car companies. With the decline in sales of those American car companies and with the offshoring (sending overseas) of jobs to factories in other countries, the city of Detroit is no longer supported by car manufacturing (making; building) jobs.
A similar phenomenon happened to the town of Gary, Indiana, located about 30 miles (48 kilometers) from Chicago, Illinois, and known as the birthplace (where he is born) of Michael Jackson. Once a town supported by manufacturing jobs, it has been in decline (slowly getting worse) for the past 50 years. In the 1960′s, the city had 180,000 residents (people who lived there) working for the steel (hard, gray-colored metal used for building) industry (business). Today, there are fewer than 80,000 people living in Gary and one-third (1/3) of the homes that were once lived in are empty. The empty homes are a temptation to vandals (people who damage property for fun), many of the homes being set on fire, which produces a hazard (danger) for other residents.
Now, the mayor of Gary, Indiana is trying something radical (extreme; very different). Empty homes that have been abandoned (left, without any owner) not only mean possible danger, but the government can't collect taxes on the houses, taxes that are used to provide public services. To try to remedy (fix) this situation, the mayor wants to sell empty homes for $1.
To buy a home in Gary for a $1, you'll need to meet some requirements. You have to have a minimum income — for a single (unmarried) person, that's $35,250 a year — and have enough money to repair the home and bring it up to code (make sure it follows building laws) within six months. If a resident can do that, they will own the home in five years.
This is an experiment to see if cities can be revived (brought back to life) by turning empty homes into revenue-generating (producing taxes) homeownership that brings and keeps people in the city. Many other towns in a similar situation to Gary are watching to see what happens. Perhaps there is a lifeline (rope used for saving lives) for dying towns.
Has the government where you lived tried radical experiments like this to help dying or shrinking (becoming smaller) towns?
~ Lucy
Photo Credit:  Gary Indiana Fifth Ave-Broadway (S Shook Collection) from Wikipedia