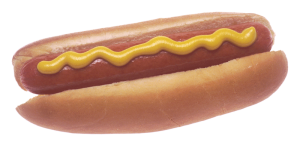 Today is the Fourth of July, the United State's Independence Day. On this day in 1776, we officially separated ourselves from Great Britain. We've talked a lot about this federal (national) holiday and how it's celebrated (see here, here, and here).
Many cities have their own celebrations that are unique (special) to that place or among a certain group of people. One of these events is the Nathan's Hot Dog Eating Contest in New York City, which began in 1916.
Nathan's Famous is a chain (business with many locations) of restaurants that specialize in hot dogs. Its original restaurant was a hot dog stand (small structure or building used for selling food or other things) at Coney Island.
Coney Island is a famous place in one of the boroughs (neighborhoods) of New York City called Brooklyn. Coney Island is well known for its amusement parks. Amusement parks have rides that go very fast and high in the air, games where people can win prizes, and many different types of fast food.  Between 1880 and the early 1940's, before World War II, Coney Island was the largest amusement park area in the United States. During the height (high point) of Coney Island's popularity, several million people visited it each year.
The legend (traditional story about history that may or may not be true) is that the hot dog eating contest started when four immigrants (people who move to another country to live, in this case the U.S.) held a contest to see who was the most patriotic (loving and supporting of the U.S.).  But in the early 1970s, a man named Max Rosey admitted (said was the truth even though he didn't want to) that he and another man made up (created) this story as a publicity stunt (action taken to get attention).  Even though nobody really knows why and how this hot dog eating contest starting, the contest continues today.
The contest got a lot of attention starting in the 1990s because Japanese competitors began to take the contest very seriously, with Takeru Kobayashi winning six consecutive (without a break) years from 2001-2006. These "athletes" trained for the contest and broke world records (the official number of the most that anyone has done in the world). Since that time, the event has become very popular, with tens of thousands (10,000 to 90,000) of people going there to witness (see for themselves) this event.
So how many hot dogs do the winners eat? The 2013 winner ate and kept down (did not vomit or bring up again) 68 hot dogs in a 10 minute period. Can you beat (do better than) that?
Are there eating contests where you live? Are there special local events to celebrate independence day in your city or town?
~ Lucy
Photo Credit: Hot dog with mustard from Wikipedia