HOME > BLOG > Gambling Ourselves Out of an Economic Slump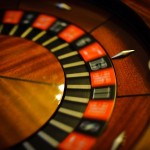 As in many parts of the world, the U.S. is currently in an economic slump (a sudden and bad fall in prices, value, amount, etc.). The federal (national) government, as well as state governments, are looking for ways to raise their revenues (income; money collected).  Several states are looking at the same solution: casinos.
Casinos are places where people can go to gamble, or play games of chance for money.  In the U.S., each state decides whether casinos are legal. Most states have decided not to allow legalized (allowed by law) gambling in casinos.  There are notable (important; worthy of attention) exceptions, of course.  The state of Nevada allows legalized gambling and that's why we have the popular city of Las Vegas.  Similarly, New Jersey allows gambling, and as a result, Atlantic City is well known for its casinos.
However, other than Indian casinos (see below*), most states do not allow legalized gambling.  But this is changing.  Last year, the states of Delaware, Pennsylvania, and Maryland legalized casinos, allowing games such as blackjack (a card game where the goal is to have cards totaling 21 without going over that number) and roulette (where a wheel is spun and a ball lands on a numbers that people can bet on; see picture). Three other states — Massachusetts, New York, and Illinois — are also considering allowing casino gambling. According to the American Gaming Association, the 500 existing (currently available) casinos in 22 states earned about $7.5 billion in taxes for state and local governments last year.
Legalizing gambling to increase revenues is not a new strategy (plan).  Nevada first legalized gambling in 1931, during the Great Depression, a time of major economic crisis (bad problems), and Atlantic City came into being (was started) during the poor economic times of the 1970s.
Does legalized gambling exist where you live?  Would you consider legalized gambling to support public services, such as schools, public transportation, healthcare?
~ Lucy
* Indian casinos, or casinos owned by Native American tribes (groups), are allowed by law.  See English Cafe 184 for an explanation.
Photo Credit: Roulette from Wikipedia