HOME > BLOG > Independence Day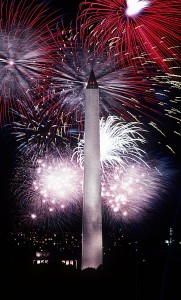 Today is Independence Day, a national holiday in the United States. We've talked about the Fourth of July a few times (here and here and here). This day marks (indicates; remembers) the anniversary of the signing of our Declaration (Statement) of Independence from Great Britain back in 1776.  For our listeners in the United States, enjoy your holiday!
~Jeff
P.S. Today also marks the 1000th episode of ESL Podcast (700 dialog episodes plus 300 English Cafes).  We'll save most of our celebrating for our 6th anniversary coming up (taking place in the future) in a few weeks.
Photo Credit: "Fireworks Behind the Washington Monument"
by Sargent Lono Kollars, U.S. Air Force, Wikipedia PD