HOME > BLOG > Rest in Peace…or in Vinyl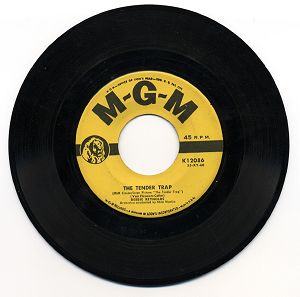 Today, I want to bring up a very morbid topic. If you're morbid, then you are showing an unnatural or unhealthy interest in unpleasant and disturbing topics, such as illness and death. That's what this blog post is all about.
Death.  We will all experience it.  When your turn comes, what do you intend to do with your body?  More accurately (precisely; correctly), what do you want your family or friends to do with your body once you're dead?
Most people want to be buried (placed in the ground); others want to be cremated (burned completely) and have the ashes (black or gray powder left after burning) kept in an urn (tall stone or metal container for storing ashes) or to be scattered (thrown in a random way) in a meaningful place.
Have you thought about putting yourself in vinyl?
A few weeks ago, I've heard about companies that will take your ashes and press them into a vinyl record, one of those black, round disks (flat circles) that is used to play music (see photo).  These companies provide a service that will allow you to select any recording–your favorite song, a recorded message from you to your family, your last will and testament (legal document stating what you want done with your money and property after you die), your favorite episode of ESL Podcast(!)–and create a record using your ashes.  This way, you can live on (for others to remember you) in something that you leave for your family or friends.
Would you want your ashes pressed into a record?  If so, what would you want the recording to be?  If not, what would you want done with your body or ashes after you die?
~ Lucy
P.S. "Rest in peace" is a phrase we use at funerals (ceremonies held when people die) to express our wish that the person who died will forever have peace.  We talked about this phrase in the Learning Guide of ESL Podcast 514 in the "What Else Does it Mean?" section.