HOME > BLOG > Los Angeles: Beautiful but Dishonest?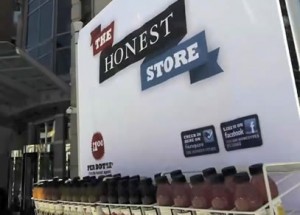 I stumbled upon (found accidentally, without looking for it) a short article in the newspaper the other day (recently) about an informal, non-scientific survey (study) of how honest Americans were in different U.S. cities. An organic tea company, Honest Tea,* ran (conducted; did) a small experiment to test how honest people were.  (Organic usually means food that is grown or prepared without any man-made (artificial) chemicals.)
The set-up (way something is arranged or organized) for the study was simple: the company put a cart (a small, portable (easily movable) vehicle on wheels used for selling things on the street) out in a public place with a sign saying that a bottle of tea was $1.00.  No one was working at the cart, however.  Instead, there was a sign saying that customers were on the honor system.  The honor system is when you are supposed to leave money for something you are taking even though there is no one there to take your money (typically, you leave it in an envelope provided to you or put it in a closed box).  The company also put a hidden (secret; one that nobody could see) camera and counted the number of people who took some tea but didn't pay – that is, who stole a bottle of tea.  They did this in seven large cities in the U.S.
Here are the percentage of people who were honest, who left money for the tea they drank:
Boston (Massachusetts): 93.3%
Washington, D.C.: 93%
San Francisco: 91%
New York City: 89%
Atlanta (Georgia): 89%
Chicago (Illinois): 78%
Los Angeles: 75%
Notice that the percentage is overall quite high, with the vast majority (well over 50%) of people paying for their tea.  For five of the seven cities, around 90% of the people were honest.  But in two cities, there were significantly fewer honest people – Chicago at 78% and Los Angeles at 75%.
Chicago is in the Midwest, the central part of the United States, where people typically have the reputation for being honest (I am from the Midwest, so this must be true).  The city of Chicago, however,  also has the reputation of being home to (a place where you will find) a lot of political corruption (lying; stealing; dishonesty).   Perhaps some of that dishonesty is being reflected (seen; noticed) in the survey?
Los Angeles is another story (a different case; situation).  I don't think most Americans expect Angelinos (people who live in LA) to be very honest because it is a large city.  But of course, all of the cities in the survey are large, and they were still honest, at least much more honest than Los Angeles.  What is the reason for LA's poor showing (result in comparison to other groups)?
Los Angeles has the reputation of being a very superficial (opposite of deep, profound, and serious) city, where the way you look and the car you drive are more important than who you are as a person.  The people here (some say) are very self-centered, meaning they only care about themselves.  It may be that if you are mostly concerned about yourself, you don't mind cheating someone else.
I don't really know the answer, but I did watch the short, entertaining YouTube video that the company made for each city.  If you are curious, you may want watch it to see how the experiment worked in Los Angeles.  What I noticed is that the carts were put in tourist areas, such as Venice Beach or the Hollywood Walk of Fame, where the majority of people are actually visitors, not from Los Angeles at all.  Of course, this explanation could just be my excuse for LA's poor results!
If there were a similar experiment in your city, how honest do you think people would be?
~Jeff
* = "Honest Tea" is a play on words (using words with similar pronunciations or spellings to make a little joke), since it is pronounced just like the word "honesty."
Photo credit: Honest Tea, copyright 2010.  Used by permission.