HOME > BLOG > The Mountains' Spell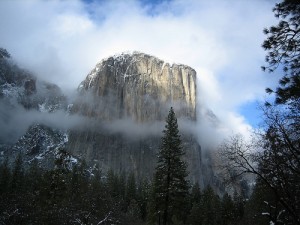 The Sierra Nevada mountains in California, and especially the mountains in Yosemite National Park, cast a spell on (give a magical feeling to) everyone who visits them. I know. I've been there and experienced it.
If you look at a map of California, you'll see two mountain ranges (lines of mountains). The Coastal Range is next to the ocean. The Sierra Nevada Range – and Yosemite – is on the opposite, or east, side of California. It's more than 500 miles long and its mountains are from 8,000 to 15,000 feet high.
I don't go to the mountains as often as I would like, but I have two friends who can take me there in an instant (immediately) anytime I want to go. Let me introduce you to them.
No one can describe nature (the natural world) like John Muir. Muir was an American naturalist (student of nature) and explorer. He fell in love with Yosemite when he first visited it in 1868, and he returned many times before he died in 1914. He often spent many weeks hiking (walking in the mountains) alone through the park.
Muir paints word pictures like an artist. When I read his words, I can clearly see the mountains in my mind. Here is my "simple English" version of one paragraph from his book The Mountains of California (If you want to read his original words, you can find them here.).
The walls of Yosemite's valleys (low land) are made of rocks as large as mountains, separated (kept apart) by narrow canyons. They are so steep (vertical, up and down) in front, and so close together on the valley's flat floor, that when you look at all of them at the same time, the spaces in between them look like vast (very large) rooms lighted by the sky above. Every rock seems to glow (shine brightly) with life…. They are awesome (impressive), majestic, and permanent. But at the same time, they are full of delicate (fragile, easily damaged) and temporary beauty. The feet of the mountains stand in groves (groups) of pine trees and bright green fields. Their heads are in the sky, covered with light and floods of singing water. Snowstorms, avalanches (snow falling down the mountain), and winds quickly come and go all year long. These mountains remind me of mansions (large homes) where Nature has carefully collected her most valuable treasures so her lovers will come close and spend time with her.
If I want to look at Yosemite's mountains, for me there is nothing better than Ansel Adams's beautiful black-and-white (without color) photographs. Adams is one of America's most famous photographers because of his photographs of Yosemite National Park. Adams first visited the park when he was 14 years old and it quickly became one of his favorite places. He lived there for many years and took many of his best-known photographs there.
If you want to learn more about Adams and see some of his photographs, I recommend two articles from the New York Times newspaper. The articles are What Adams Saw Through His Lens and Ansel Adams's Yosemite. In the second article you can see nine of his photographs and hear a brief description of each one.
If you want to learn more about Yosemite, be sure to listen to English Cafe #238 on April 21st and hear what Jeff has to say about it.
~ Warren Ediger – ESL tutor/coach and creator of www.successfulenglish.com where you can learn more about how to improve your English.
~ Photo by Jim Brekke used by permission.