HOME > BLOG > Getting Crafty with Crafts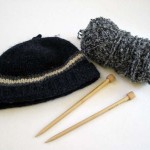 Most people know about the Internet selling website eBay. It is a website that allows individuals and businesses to list items for sale.  Then, buyers use an auction process, where each buyer indicates how much he or she is willing to pay for an item and the person who is willing to pay the most buys the product.
eBay is probably the most well known Internet auction website, but recently, I heard about a new Internet selling site aimed at (designed for) individual sellers who are crafty (two meanings: 1) clever; 2) able to make things with one's hands, especially decorative things).
In the past five to ten years in the U.S., there has been a resurgence of interest (increased interest after a period of not being popular) in crafts, especially knitting and crocheting. Knitting and crocheting are two methods of using yarn (thick thread) and long needles (sticks) to make things like sweaters, scarves, baby clothes, handbags, and many other things. (Crocheting (pronounced "crow-shay-ing") uses one needle with a hook at the end, and knitting uses two needles, with no hook.)
This new selling website takes advantage of this interest in crafts and is called Etsy. All of the products listed on the website are crafts, or things that are handmade (made by one's hands, rather than by machines in factories). On the website, you will find sweaters and scarves (long pieces of fabric you put around your neck to keep you warm), of course, but also handmade greeting cards (such as birthday cards, Christmas cards), cases for cell phones, candles, furniture, clocks, jewelry, and much more. On the site, the seller sets (determines) the price. And if you don't find what you're looking for on the website, there is a page where customers can ask for custom (made for a specific customer) products and the price they are willing to pay.
For many people, crafts are a hobby (activity done in one's free time for fun), but many people are turning crafts into cash, especially in these difficult economic times. When I was little, my mother taught me how to knit, and later on, my sister taught me how to crochet. Looking at the nice quality products that other people can make on this site has really put my own efforts to shame (makes me embarrassed about the low quality of the things I've made).  If you ever see me with an odd-shaped (strangely-shaped) scarf or a lopsided (with one side smaller or lower than the other) hat, you'll know I didn't get it from Etsy. I made it myself.  I'm afraid I'm not too crafty with my crafts.
Are you crafty?  What can you make?  What would you like to learn to make?
Me?  I've always wanted to learn to make things with wood, perhaps to build small pieces of furniture or other practical things.  But given (considering; keeping in mind) I'm not very good with my hands, I think I better stick with (stay with) writing scripts!
~ Lucy