HOME > BLOG > A Salute to Les Paul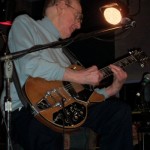 Last week, Les Paul, the inventor of the modern electric guitar passed away (died) at the age of 94.  Inventors are people who create or make things that didn't exist before, and Les Paul is credited with (recognized as) inventing some of the devices (electronic things) and techniques (ways of doing something or performing) that gave rock music its sound.
In 1939, he invented the first solid-body electric guitar (see photo). His prototype (the first model) was called "The Log."  It was called "The Log" (a short piece of round wood) because it was actually a piece of wood with a neck and strings attached to it!  He later partnered with Gibson, the large American guitar-maker, to mass produce (make a lot of for sale) the electric guitar.  The Gibson Les Paul guitar has been and continues to be played by some of the best and most well-known guitarists, including Keith Richards, Eric Clapton and Slash.
Les Paul was also the inventor of overdubbing and multitrack recording, two things that make the ESL Podcast recordings sound the way they do.  Overdubbing is putting sound over sound, such as adding music or sound effects (noises that make a recording sound more realistic or interesting) to something that has already been recorded.  We also use multitrack recording, which is when voices, music, noises, and other sounds are recorded on different tracks (single recordings) and are later put together to create the final recording.
So we salute (recognize) Les Paul for his many innovations (creation of new ways of doing things). ESL Podcast wouldn't be ESL Podcast without his contributions.
~ Lucy