HOME > BLOG > Let's Ring in the New Year!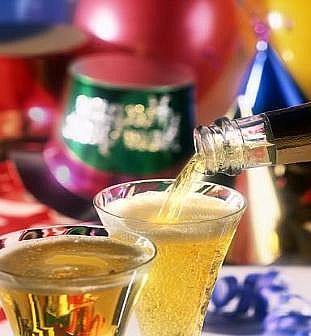 The new year is fast approaching (arriving soon). We use the expression to ring in the new year to mean to welcome or to celebrate the new year. We usually use this expression like this:
– "We're ringing in the new year with a party at our house."
– "Let's ring in the new year with a bottle of champagne (a type of wine with bubbles)!"
Traditionally, people go to parties on new year's eve (December 31st) to be with friends and other people to ring in the new year. They go to parties at people's houses or go to one of the many restaurants and bars that have special new year celebrations. Many people dress up, especially women, wearing formal party and evening dresses. When 12:00 a.m. approaches, there is a countdown (10…9…8…7…etc.) to midnight. When the clock strikes 12:00, people drink champagne and kiss their spouse, boyfriend/girlfriend, or date, or maybe even a stranger (someone they don't know). And the party continues…
How will you ring in the new year?
To all of our listeners, happy new year to you, and we hope that you'll have a fantastic 2009!
~ Lucy