HOME > BLOG > A Convict With Many Convictions Has Strong Convictions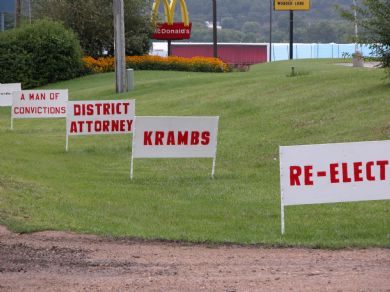 The signs say: "Re-elect Krambs (for) District Attorney – A Man of Convictions"
A convict (pronounced CON-vict; noun) is a person who has been found guilty of a crime, usually by a judge or a court of law. To convict (pronounced con-VICT; verb) is the act of officially saying someone is guilty of a crime.
Conviction (pronounced con-VIC-tion; noun) has two meanings. First, it refers to the formal statement that someone is guilty of a crime. Second, it describes someone who has strong beliefs or opinions that are unshakable (others are not able to change) and who believes strongly in what they are doing.
So, this candidate (person wanting to be elected to a public position or job)–Mr. Krambs–is running for district attorney. A district attorney is a public official who acts as the state or federal (national) government's lawyer in court.
Should we congratulate Mr. Krambs for being unusually honest about his crimes, or is he telling us that he has been a successful lawyer and believes strongly in what he is doing? I guess the voters will have to decide.
~ Lucy